-This is a guest post by Fumiko Umemoto from Japan.
The reason isn't so rare in our hectic life. "I want to change my life".Everyone might have thought like this at least once.
Anyways, I put the idea into action. I decided to travel around the world by myself and spend all of my saving to change my life.
At first, I wrote down all of the countries I wanted to go once in a life. And I looked up the way to go there on the internet carefully.
I took much time to prepare as I wanted the travel to be perfect. Because it's the travel to change my life!
Mainly, I did these things as a preparation
1-Contact with the hosts of Couchsurfing
I used Couchsurfing in four continents other than Estonia, Iceland, Cuba, Uruguay
2-Making an itinerary
I made my itinerary for this big adventure
I wrote down about where and when to go there and the information about the place in detail on the itinerary
I traveled based on the itinerary, although it didn't go smoothly as expected.
3-Reservation of a flight ticket
Mainly, I used Round the world ticket of one world for this world travel.
It's a ticket for world travel. We can make routes as we want within the limits.
Apart from that, I used LCC and buses to travel
4-Starting a blog
I wanted to start a WordPress blog. As I didn't know how to do it, I asked my friend to help me start the blog.
However, something wrong happened with my blog on the way to travel. So I switched it to Facebook to record my travel. But now I started writing a blog about the world travel again based on the articles on Facebook.
5-Shopping for the stuff
I bought a suitcase and some stuff which I regretted buying. It's hard to travel around the world with a big suitcase!! But I bought cute one! At least, it made me excited until travel…
I DID THESE PREPARATIONS WHILE WORKING, IN MY BREAKS, ON THE WAY TO WORK AND WAY TO HOME, ALL THE TIME. MY HEAD WAS FILLED WITH WORLD TRAVEL AT THAT TIME!
The departing day came soon. Some friends admired my big decision. They encouraged me and made me feel that my decision was right. "I can change my life",  I said to myself.
When I showed the round the world ticket in the counter of the airport, the staff smiled to me and asked me "You will visit these countries?" and I smiled back to her and said "Yes"
And I boarded the plane excitedly marking the beginning of my big adventure.
Here is the list of countries I visited during my 6 months trip
Finland, Estonia, Greece, Turkey, United Arab Emirates, Jordan, Morocco, Spain, Denmark, Sweden, Norway, Iceland, England, USA, Canada, Mexico, Cuba, Chilli, Argentina, Bolivia, Uruguay, Peru.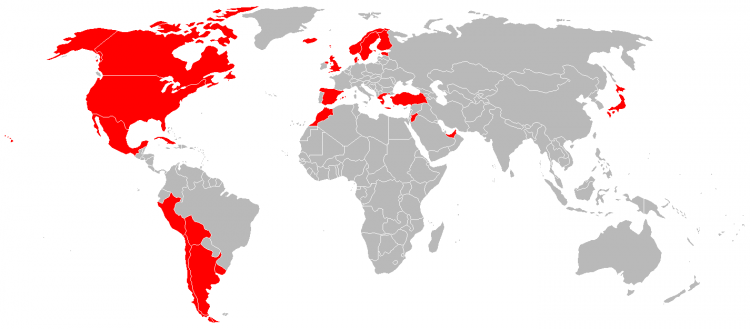 Some people say that it's too hard to visit these countries in 6 months and honestly I was a little scared of traveling around the world by myself at first.
BUT I CHALLENGED MYSELF AND DECIDED TO TRAVEL AROUND THE WORLD IN 6 MONTHS.
Want to know more details, check out my world travel blog here.
If you like this kind of stories and you don't want to miss anything you can follow us on Instagram, Facebook, Twitter and Tumblr for more updates, also you can join our community by opting in our newsletter.

Widget not in any sidebars